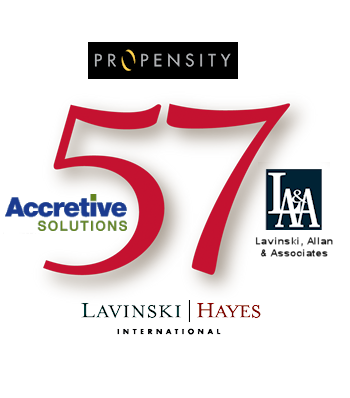 Lavinski Boyd & Associates was founded in 1988. Long considered a pioneer in the high end professional staffing and "project services" industry Rich Lavinski, CPA sold his portion of Lavinski Boyd to a regional firm in 1993.
Lavinski Allan & Associates was founded in 1994.
In 1997 Lavinski Allan & Associates (LAA) was recognized by the Dallas Business Journal and SMU as one of the 100 fastest growing companies in Dallas/Ft. Worth. LAA was listed as #39 on The Dallas 100 List.
Highly successful, with 3 offices in Texas (Dallas, Houston, Austin/San Antonio) and having become the largest and most successful firm in its niche, Lavinski Allan was pursued and ultimately acquired by Accretive Solutions in 2000.
Rich Lavinski and much of the Lavinski Allan team went on to found Propensity-Hayes, a human resources, accounting and finance professional services firm in 2004. Propensity-Hayes, which later evolved into Lavinski-Hayes, was pursued and ultimately acquired by the Hudson Highland Group, a $1.2 billion dollar global publicly traded professional services firm in 2008.
In 2010 Rich Lavinski was recruited to take over the leadership of the Dallas Fort Worth office of The SolomonEdwardsGroup. During his tenure as DFW Managing Partner, the DFW office exceeded all previous revenue milestones including a 500% increase in revenues. In 2012, the office became the firm's second highest producing office in core consulting billings, revenue and client service hours.
In January 2014, Rich Lavinski partnered with Tony Beshara and Babich and Associates to create East 57th Street Partners. Babich, founded in 1952, is the oldest and most successful executive search and placement firm in the state of Texas and is among the most successful firm of its type in the United States. Tony Beshara is recognized by Fordyce as the top search and placement leader in North America. Tony Beshara, PhD has made multiple appearances on The Dr. Phil Show, and CNN. He has also been recognized as the top leader in the industry by such media agencies as The Chicago Tribune, LA Times, and Forbes. He is often quoted as "THE" expert in the Job Search and Professional Placement industry. Tony has written four best- selling books about job search and hosts a popular radio program about job search solutions.
East 57th Street Partners specializes in assisting clients with event-driven engagements requiring scaled project teams with senior-level project management expertise and oversight.
E57 Partners provides experienced highly skilled subject matter experts trained in supporting large complex projects (from one consultant to hundreds). Our clients range from venture backed start-ups to Fortune 100 companies to non-profit charitable organizations.
The firm maintains expertise in M&A integrations, project management, operations support, financial reporting, forensic accounting, regulatory compliance, technology solutions, and restructuring services. We service almost every area of accounting, finance, IT and HR.