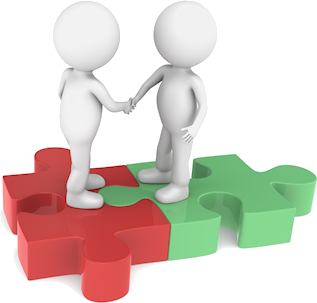 We work alongside our clients to organize their projects and put all the right pieces together.
Outstanding client relationships and service excellence are ongoing priorities with East 57th Street Partners. We succeed by hiring professionals who genuinely care about the client, are experienced in doing hard things and who have a proven track record of consistently delivering results that matter to the people and organizations we serve.

Our approach is practical and wrapped around your individual needs and industry requirements. More importantly, each service team is hand picked and specifically assembled based upon your specific needs and the deliverables required.

Having been in this business longer than most, we have access to a broader pool of talent and a long standing reputation for doing what we say we'll do... delivering results that matter. Below are just a few examples of our work.
A Few Samples of Recent Engagement- Real engagements. Real results.



Assimilating Payroll, HRIS and Compensation Strategy
We do hard things...
When a publicly traded national broadcasting company made a strategic acquisition it had an urgent need to assimilate over 300 employees into its payroll, benefits, compensation and HRIS systems. In addition, it needed well documented methodology and process to facilitate the assimilation of an aggressive schedule of future acquisitions. Based on recommendations from other satisfied clients and their outside payroll vendor, the East 57th Street Partners team was called in to help.
We deliver results that matter...
The East 57th Street Partners practice director quickly wrote a project plan that would fast forward the payroll, benefit and compensation conversion of the new employees. Senior East 57th Street Partners payroll project personnel then worked along side client personnel to lead the execution of the plan. The conversion was so successful that the project plan is now used as a template for all future acquisitions.



Building new Financial, Payroll & HRIS Infrastructure
We do hard things...
When a $3 billion media company was spun off from its wireless telecom parent the East 57th Street Partners (E57) team was engaged to assist. As with most divestitures, new (and parent company independent) financial and operational infrastructure was required. Key needs included an assessment of compensation plans, review and enhancement of the payroll process, a conversion of the compensation system (PeopleSoft to Ceridian) and implementation of certain HR management systems (Success Factors and ePrism).
Accounting needs included assistance with FAS 157 reporting and compliance, purchase process improvement, and policies, procedures controls impacting various accounting, finance and treasury functions. The East 57th Street Partners team was chosen due to its wide ranging expertise, and its successful track record assisting other divestiture initiatives. Most importantly, the client based its decision on several successful previous experiences with the E57 team.
We deliver results that matter...
Leveraging East 57th Street Partners methodology and project specific subject matter expertise a multifunctional plan and project solution was delivered. Specific deliverables included a comprehensive payroll process review and restructure, a new compensation plan, a complete pre conversion data scrub, new tables in payroll, new benchmarking and planning systems. As part of the compensation plan restructure our team developed new job codes, job descriptions, pay grades and union step plans, thus enabling a clean conversion to Ceridian. Our engagement team also configured the HR Benefit system and Success Factors Compensation model for merit planning and scrubbed and planned data input for the client's staffing system (PeopleClick) resulting in a successful interface with Ceridian.
All conversions and implementations were achieved on time and under budget. All technical compliance and reporting functions such as the FAS 157 procedure documentation were approved by our client's outside Big 4 auditing firm and exceeded that firm's expectations. Of course, the result that mattered most was the satisfaction expressed by our client and their continued trust in our services.



Reengineering Payroll & Business Processes for Greater Efficiency and Effectiveness
We do hard things...
When a Fortune 250 construction company endeavored to consolidate over 90 separate payrolls, establish a standardized master data model, and migrate from a client server based HRIS (ADP HRizon) to a web based solution (Enterprise v.5 upgrade) while implementing a shared services approach to payroll and HR, they called in a team they had used many times before, East 57th Street Partners. Our previous track record along with our expertise in HRIS, Payroll, Shared Services processes and technology allowed us to deliver a highly effective solution for the client.
We deliver results that matter...
Moving the client from non-standard payroll processing to a shared services approach required the creation and implementation of new payroll and business processes and extensive planning and testing. The interfaces for the time and labor management systems, third party benefits administrator, retirement vendors and flexible spending administrator were successfully revised and tested. A new security tree was also created and tested.
The result that mattered most to our client was the achievement of a single standardized system that would meet the goals of a highly efficient shared service delivery system, and enterprise reporting. The result that mattered most to us was exceeding the clients expectation while delivering the project on time and within budget.



Enhanced ROI
We do hard things...
A national publicly traded wholesaler of consumer product contracted with ADP for the implementation of Time Saver, a Time and Attendance (T&A) solution. The company had grown through acquisitions to 120 locations and over 2000 employees. There was no company-wide time and attendance system previously in place. It was critical that the implementation of ADP timesaver provide a standardization and streamlining of T&A collection methods, rules and business processes thus achieving a centralized enterprise wide time and attendance system.
To maximize ROI on this initiative the client engaged the East 57th Street PartnersInternational (E57) team to provide leadership and expertise for the implementation.
We deliver results that matter...
The E57 team quickly provided the following deliverables:
An analysis of pre-existing T&A business process, policy, rules, and procedures.
Standardized T&A business processes and rules improving business process efficiency, controls, and ensured wage & hour compliance.
Presentation and revision of standardized T&A business process rules based on operational concerns and issues.
Provided responses to Business Design Documents (BDD) requested by ADP for implementation. Assembled BDD documents for presentation
Prepared client for ADP Time Saver implementation by identifying internal resource roles for implementation and resource roles for operation and support of Time Saver.
The result that mattered most was a seamless implementation delivered on time and on budget. To us the result that mattered most was our client's satisfaction and their endorsement to assist with other projects.



Executive Search for a Best Fit HR Leader
We do hard things...
One of the world's largest publicly traded security and protection firms sought a Sr. VP HR to accommodate an immediate succession planning need. The position's job description included several pages of skills, functional requirements, cultural fit and leadership qualities ranging from labor union negotiation experience to benefits and HRIS/Payroll subject matter expertise. Based on previous work with the East 57th Street Partners (E57) team, the client engaged E57 to lead the search.
We deliver results that matter...
Leveraging its extensive network of HR executive talent and contacts E57 sourced over a dozen passive and active viable candidates for the position. Using its hiring methodology which includes technical and behavioral assessment, track record assessment and cultural fit analysis, East 57th Street Partners narrowed the selection to 3 best fit candidates based on the client's need. The client immediately liked all 3 of the presented candidates and leveraged E57's expertise in making the final choice. East 57th Street Partners further assisted with the final compensation negotiation and offer presentation. Post-hire, the chosen candidate is thrilled with his new position and continues to get enthusiastic "thumbs-up" feed-back from his new employer.



A need for speed and a new HRIS/Payroll Process
We do hard things...
A large mortgage investment and servicing company experienced hyper growth due to the opportunities presented in the distressed financial services arena. The company more than doubled its headcount. It is currently on a path to more than double in size once again in less than a year. Payroll, benefits, and HR functions were error ridden and highly inefficient. Existing policies, procedures and controls were also ineffective in this hyper growth environment. The company's payroll processes were more than just damaged. They were broken. The East 57th Street Partners team was called in to help.
We deliver results that matter...
Our E57 practice director was engaged to first document gaps in the client's payroll/HRIS processes. He then created new processes, procedures and controls that would enable the company to ramp up (and if necessary ramp down) quickly and efficiently without overly stretching its payroll systems and staff. In addition, an E57 senior staff manager was provided to implement and manage the changes while assuring that payroll ran smoothly during the transition. The client, was so pleased with the results that they have asked to further our team's engagement on upcoming accounting and IT projects. Now that's a result that matters.



Resulting in Enhanced Efficiency & Profit
We do hard things...
The biggest customer of a small privately owned $50 million merchandising firm required a comprehensive audit of our client's HR compliance and risk management practices. Our client had never before been through such an audit. Their customer, a multibillion dollar retailer, had the option to pull their business from our client if the audit revealed compliance or risk shortcomings. A client referral leads the merchandising firm to the team at East 57th Street PartnersInternational.
We deliver results that matter...
East 57th Street Partners provided a two person team composed of a HR compliance and risk specialist along with an Attorney/CPA with expertise in HR compliance policies, procedures and controls. The team performed an E57 designed pre-audit work program that allowed them to identify and document any gaps in compliance. The team then provided a comprehensive report that documented ways to remediate those gaps. Included in the report were recommendations to enhance workflow and process.
The result that mattered - The client received from its customer the highest passing score in its region. Based on that score the client was given the opportunity to expand its services to their customer to a new region conditional upon a plan showing how it could leverage its financial and human capital to meet the expanded service needs of that region.
The East 57th Street Partners team was then engaged to write a business plan on behalf of its client showing how they could flex its operations to meet its customers expanded needs. E57 created both a plan and its presentation to the client's customer. The client was not only awarded the contract, but soon thereafter they received an offer of purchase from one of the largest merchandising firms in the country. The sale resulted in a windfall for the company and its entire executive team. This clearly was a result that mattered.



Risk Assessment and Operational Audit
A risk assessment, resulting in an internal audit plan presented to the audit committee, was performed for an international manufacturer and distributor. The company did not have an internal audit function. Therefore after approval of the plan by the audit committee, we began with an operational audit of revenue recognition. Based on our objective understanding of their system and internal business processes, we developed a revenue recognition policy and procedure for consistent use by all business units. Referring to our risk assessment, the Controller said, "This s the most professional document we have received from a consultation engagement."
Liaison with External Auditors
A company with $80 million in sales engaged our internal audit personnel to assist during their external audit. We prepared schedules and acted as the liaison between the external auditors and the overloaded client personnel to explain issues, suggest alternatives, and find additional support requested. As a result, the audit was more efficient for both the client personnel and external auditors.
Review of Internal Controls Surrounding Interest Income
A mortgage company wanted to clarify the effectiveness of internal controls surrounding interest income. We performed an operational audit of interest income, which resulted in a report recommending numerous potential improvements in controls and an automated process to reconcile actual interest income to budget on a monthly basis. The automated monthly process, which now takes a few hours, replaces a three day process.
Travel Policy Audit
An international company was concerned about its travel policy. We reviewed the informal policies, interviewed travelers, and audited expense reports. We then developed a formal travel policy to be implemented throughout the company. The next project was an analytical review of A/P data with targeted follow up tests. A report was provided which summarized the results of the data obtained and recommended potential improvements.
General Ledger Reconciliation and Process Reengineering
An international company requested our assistance with a SAP General Ledger reconciliation project. The objective was to reconcile ten accounts, identify the controls needed, identify process or system changes necessary, and ensure the accounts are more smoothly reconciled in the future. The project required extensive SAP knowledge. We resolved millions of dollars of unreconciled items, cleared several thousand open items, and provided valuable solutions to improve the processes and control environment. During our weekly status meetings with the client personnel involved, we heard "You continue to share knowledge about our systems that will be beneficial to us in the long term."
SAP Shared Service Initiative
A $5 billion wholesaler of pharmaceuticals converted their 32 warehouses to SAP system and centralized their accounting operations. E57 supported the accounting department through the conversion and developed the summary and detailed financial reports. The E57 team also helped maintain the data integrity following the conversion and identified and corrected bottlenecks in various EDI and treasury processes. E57 identified and resolved several million dollars of inventory, credit, and revenue related control issues.
Financial Planning & Analysis
E57 provided specific industry expertise for a $1 billion manufacturing company to develop and enhance their costing and pricing models to improve the profitability of certain lines of business. The E57 team developed cost and pricing models at the product level, which immediately identified profitable products versus unprofitable products. The client requested E57 return to evaluate additional areas for cost improvement.